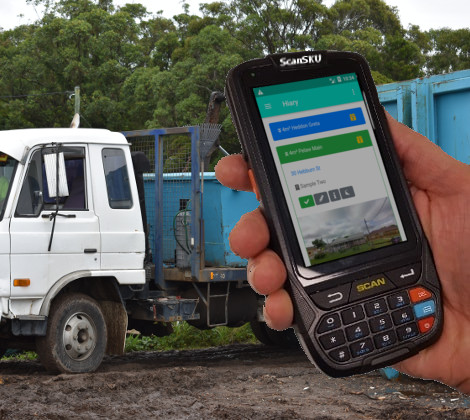 Hiary is a specialist dumpster tracking software which handles everything from collecting bookings from customers through to billing them for services completed.
The dumpster tracking system can be run in two different modes, in the first mode you can track bin locations by service delivery reported by drivers. This allows you to know where all your bins are, but it can be a little time consuming to enter all this data for small operators.
Simplified Serial Tracking Mode
The second mode is more friendly for small operators, by using our bin QR codes which are specially designed for use with our dumpster tracking software you can track your dumpsters with minimal data entry.
When the QR label on the dumpster is scanned you or your drivers are taken to a screen where they can record the location (using GPS) and record a customer name and phone if required. If there was already a job in the system for the location then the driver may select it at this time which further minimises data entry in the field.
While this dumpster tracking system may be regarded as relatively low tech, it is much more cost effective compared with using a dumpster gps tracking system that utilises transponders on the dumpsters to automatically track the roll off dumpsters.
Toughest QR Labels
Our QR labels are tough enough to be attached to the outside of your dumpsters and are made from scratch and bash resistant material. The QR technology also has built in error correction so chances are good that the label will continue to function even if it has dirt on it, is scratched or otherwise damaged.
As an added precaution we suggest that you should attach more than one label to each container that you are tracking with the dumpster tracking software, particularly where bins are loaded onto trucks frequently (such as roll off containers).
Using a dumpster dispatch software such as Hiary will streamline your business operations and reduce your cost of ownership for such systems, rather than building your own.