When a job is created in Hiary and an "Account" type payment method is used, Hiary delays creating an invoice for the job. When an invoice batch is next created which includes the charges for the job based on the charge filters selected when creating the invoice batch an invoice will be generated based on the customers invoice settings.
Customers can be setup to receive invoices grouped based on either Job, Site or Customer which will cause the invoice batch generator to group the charges into invoices based on that configuration.
To create an invoice batch, first navigate to invoice batches in the main menu by clicking the "+" next to "Setup" and then clicking "Invoice Batches".

Now click the "Generate" button and the following dialog will appear: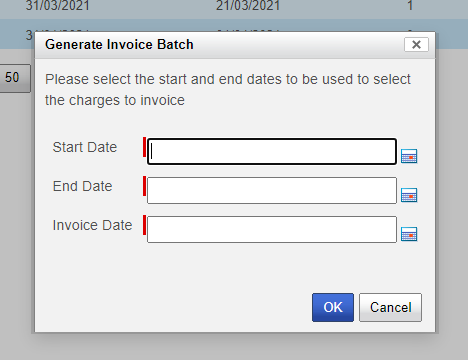 Select the start and end dates to include charges from within. Now select the invoice date that should appear on the invoice and click ok to run the invoice generation process.
Once this process is completed you can go to the invoices page under the Customers menu item to see the invoices that have been generated (they will be the ones that start with "G"). If you wish to delete all the invoices that have been generated along with the batch you can do this by clicking the "Delete" button on the Invoice Batches browser. The charges will then be available to be put onto new invoices generated in batches at the later date.
Once you are happy with your invoices you may wish to export the to Xero